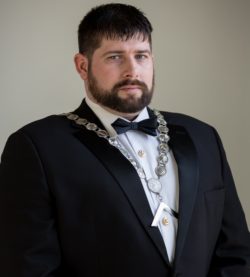 My Brother,
As I contemplated what topic to discuss in this my final message as Worshipful Master I could not help but think about what great plans I had for the year and then how everything was tossed aside due to some life-changing decisions I had made. In reflecting on the year one thing became abruptly clear to me…what it really meant, for me, to be a Mason.
Ever since my father joined a Lodge in PA I wanted to follow in his footsteps; not because I knew what Masonry was but because I thought it was the thing a son should do. Then as I grew older and moved to the military, I wanted to join to get a "foothold" in the community more quickly. When I was finally raised in September of 2012 I thought that it would bring my father and I closer and we would have something in common.
While some of these came to fruition none of these were the right reasons to be a Free Mason.
These last 3 years of service to the Lodge have been the most trying, both professionally and personally, in my adult life. Masonry may require some much of you that you can feel like you are being pulled in a thousand different directions.
Over this past year, my life has been especially trying. Through me moving to another state to provide a better life for my family, being elected to be Worshipful Master, and accepting a new job with the responsibility to 30 employees and their families. Needless to say, my cable-tow was stretched, and many times I thought it was going to break.
Luckily my cable-tow became like a bungee cord and never broke. And this was the year I finally learned what it meant to be a Mason. When I made the decision to move I asked RW Black III if I needed to resign and he said to me: "You're the Master, this is your year, and your Officers will pick up when you can't, that is what they are there for."
Over the course of the year I had many plans to help improve the Lodge; both in membership and financially. Unfortunately neither aspired to what I had envisioned. However, something better even more inspiring happened. I was able to watch Masons not previously involved begin to take charge and become leaders, I saw Masons previously not comfortable with speaking learn to speak publicly, I saw new candidates take pride in what they had accomplished, and most of all I saw a Lodge come together like a family.
When I was a child my grandfather said to me that truly fortunate men in this world only have 2-3 friends. People who will come to your aid and stand by you no matter what. I have lived by this for my entire life, not calling people friends but acquaintances and up until this year I only had 1-2 friends. This past year I now have people that I am proud to call not just Brothers but friends. So much so as I feel like I have a new family and that is something that I am forever grateful.
This year I learned what it meant to be a Mason. It isn't about position or title, not about whom you know or what you have. But it is truly about Friendship, Morality, and Brotherly Love. For that my Brother I am forever in your debt and thank you from the bottom of my heart. For it is because of you that I am a better man.
I know that this next year Brother O'Brien will continue to do great things and I will be there to help him, as he has done for me, whenever he may need it. I ask as your humble servant to be as good to him as you have been to me.
From my family and myself, I wish you and your family a very Merry Christmas and a Happy New Year!! It has been the greatest honor, of my civilian life, to be of service to you.
Fraternally,

Jonathan Murray Worshipful Master, 2017