My Brother,
Table lodges, or feasts, date far beyond our written history of Masonry. When the United Grand Lodge of England was formed it not only was to cement the fraternity in its communications but also to hold an an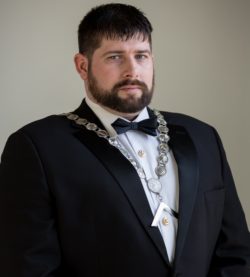 nual feast.
Feasts are an important traditional amongst men. They provided the necessary sustenance for the body after a long hard day of physical labor. They also allowed for a sense of community and friendship. This eventually gave way to what we now recognize as a "Table Lodge".  When Brethren have the opportunity to break-bread and form those deeper relationships with one another.
Lawrence Dermott, one of the leaders of early Masonry and the author of the first "Ahiman Rezon", remarked: "It was thought expedient to abolish the old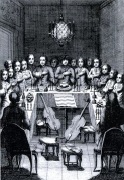 custom of studying geometry in the Lodge, and some younger Brethren made it appear that a good knife and fork, in the hands of a dexterous Brother, over proper materials, would give greater satisfaction and add more to the conviviality of the Lodge than the best scale and compasses in Europe".
The "Table Lodge" is unlike any other meeting. The room is set up in a Horse-Shoe pattern. Tradition shows that the number of toasts was set to seven however, some jurisdictions only conduct three. Our table lodge still follows tradition and conducts all seven toasts.
During the civil war, when food was in short supply, Men were to bring food as part of their initiation for the Brethren to partake after the degree. Some Lodges even had feasts after the Passing of a Brother to further promote friendship and fellowship amongst the Craft.
Also, during our Colonial days was the military terms adopted during the toasts. Our knives became swords, filling the glass was to "charge it," and drinking to the toast became "fire."
Fraternally,

Jonathan Murray Worshipful Master, 2017
http://www.lodge700.org/education/table_lodge.html